Regular price
Sale price
$15.00 USD
Unit price
per
Sale
Sold out
Frankincense and Myrrh candles and wax melts are a luxurious blend of ancient resins, perfect for creating a serene and relaxing atmosphere in your home. The scent of frankincense and myrrh has been prized for centuries for its healing properties and its ability to promote spiritual wellbeing. With these candles and wax melts, you can bring this ancient fragrance into your modern home.
This fragrance is a warm and earthy blend of frankincense and myrrh, with notes of amber, cedarwood, and patchouli. It is a complex and deeply comforting scent that is perfect for use in meditation, yoga, or simply for relaxation. The warm and woody notes create a sense of grounding and stability, while the resinous fragrance of frankincense and myrrh soothes the mind and spirit.
Frankincense and Myrrh candles and wax melts are made with natural essential oils, including frankincense, myrrh, patchouli, and cedarwood. These high-quality oils are carefully blended to create a rich and nuanced fragrance that is perfect for any occasion. Whether you are looking to create a relaxing and peaceful atmosphere in your home, or simply want to enjoy the ancient fragrance of frankincense and myrrh, these candles and wax melts are the perfect choice.
Care Instructions

Always burn your candle on a heat-resistant surface and away from flammable materials.
Keep the candle away from drafts and do not burn it for more than 4 hours at a time.
Before lighting the candle, trim the wick to ¼ inch to prevent smoking and soot buildup.
Allow the wax to melt to the edges of the container to prevent tunneling and ensure an even burn.
Keep the candle out of reach of children and pets.
Do not touch the candle or move it while it is still hot.
Extinguish the candle before leaving the room or going to sleep.
Store the candle in a cool, dry place away from direct sunlight and heat sources.
Discontinue use of the candle once the wax level reaches ¼ inch from the bottom of the container.

Following these care instructions will help ensure that your candle burns cleanly and safely, and that you get the most enjoyment out of it.
View full details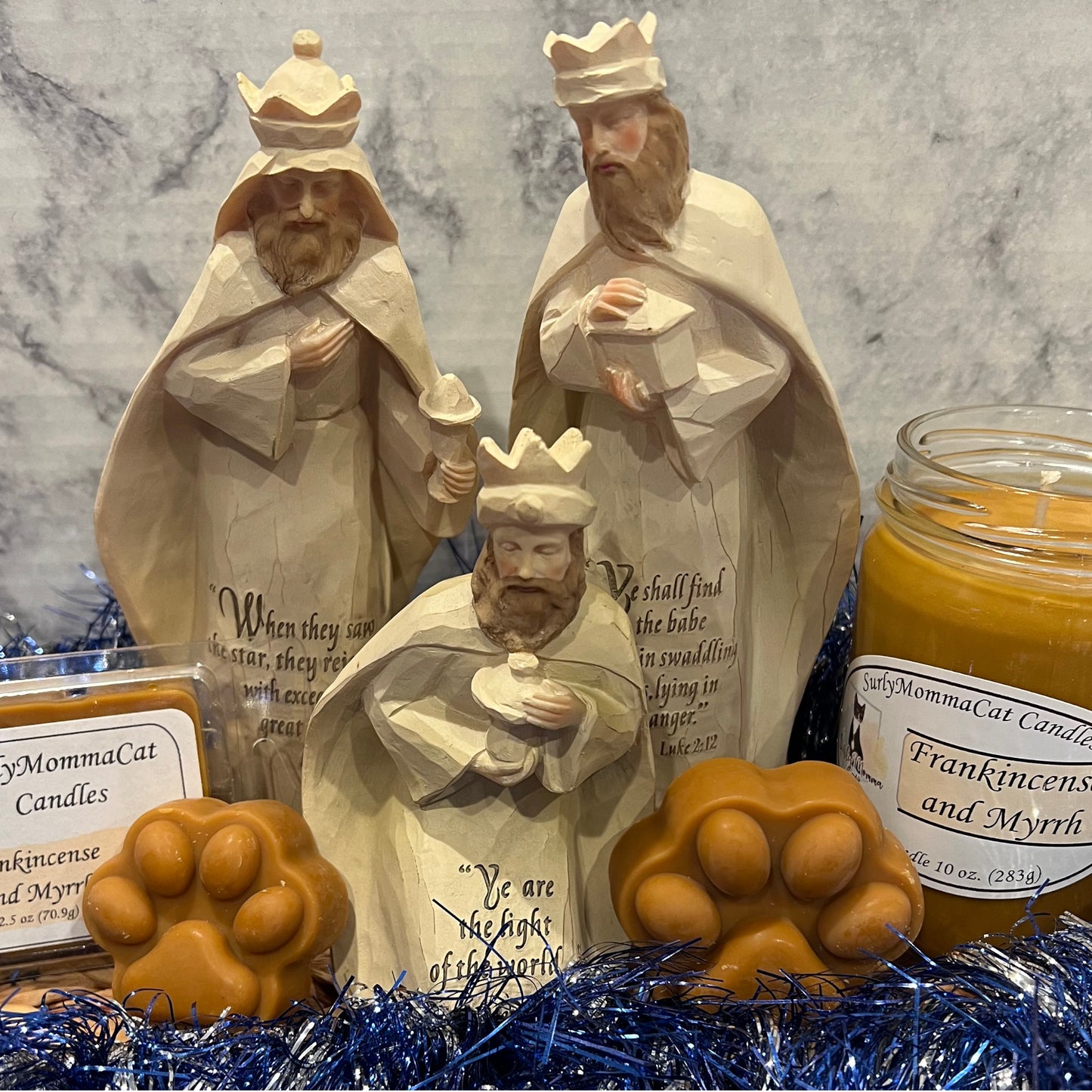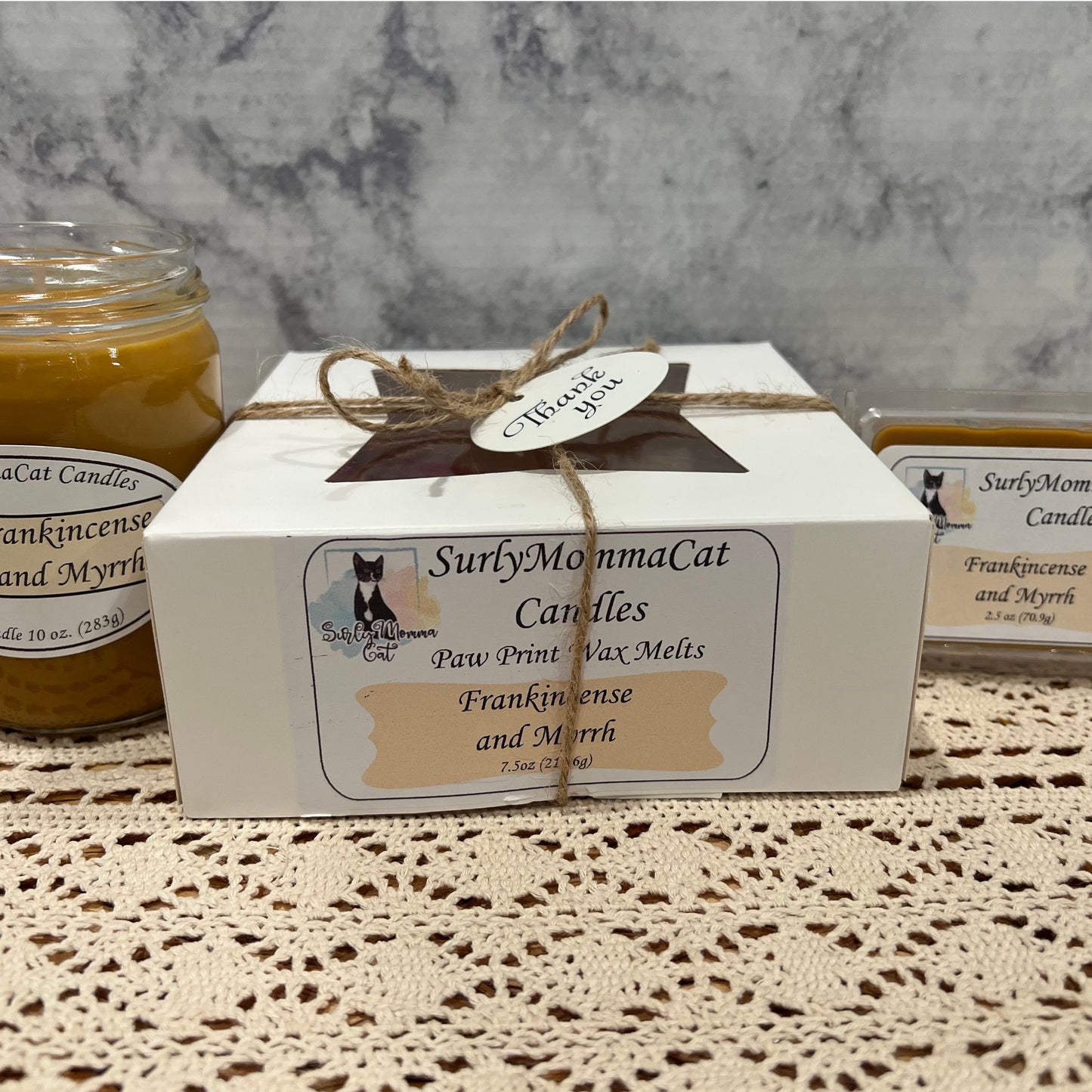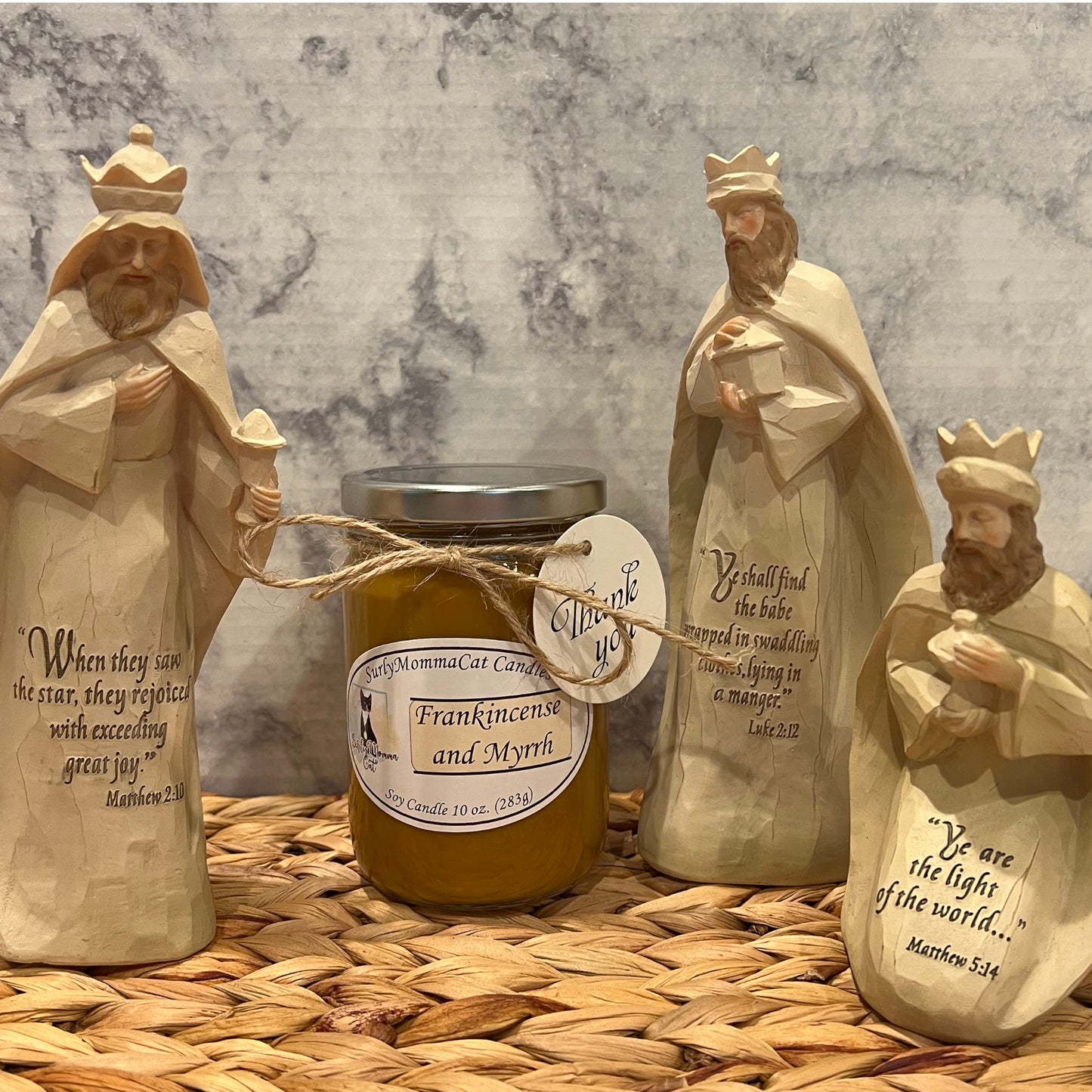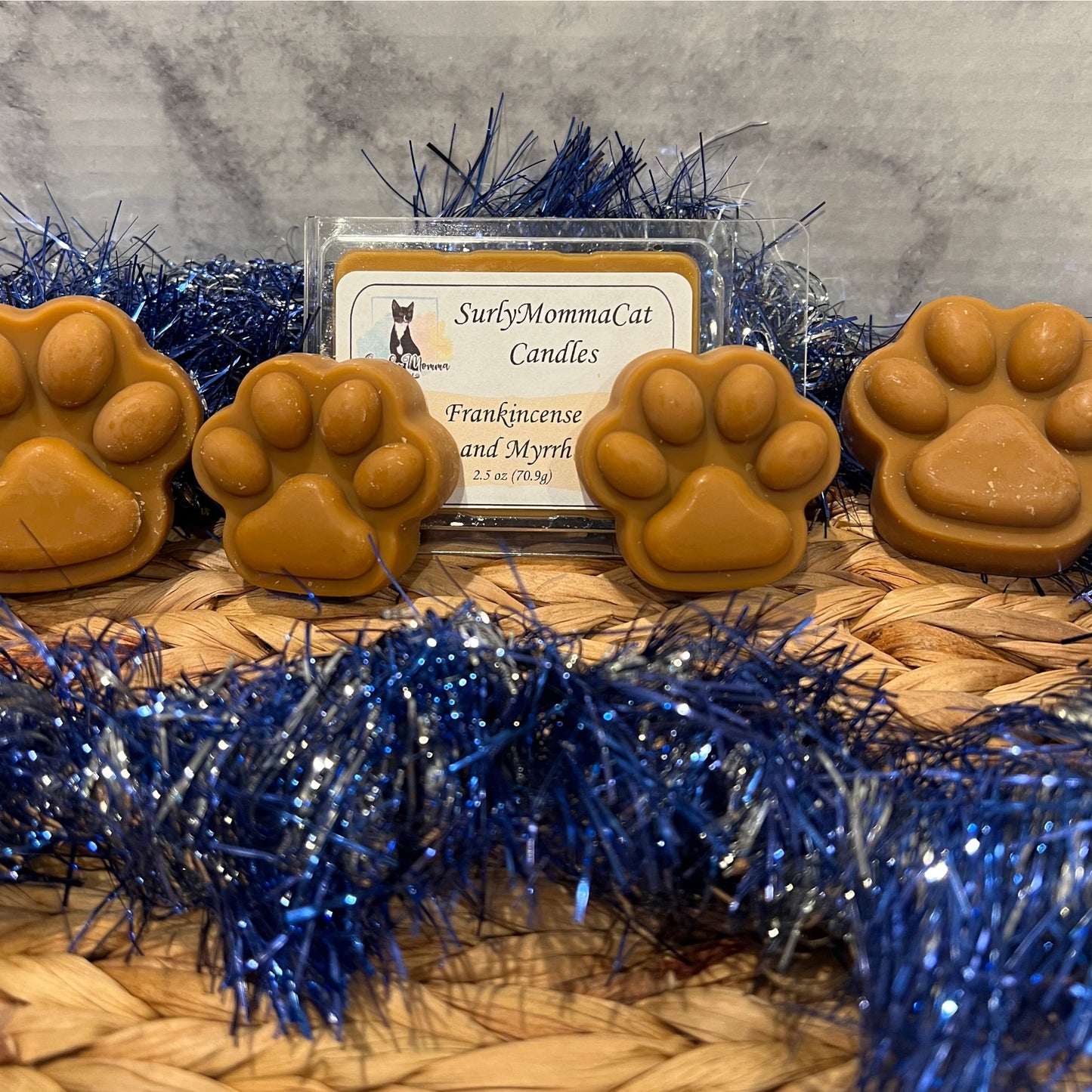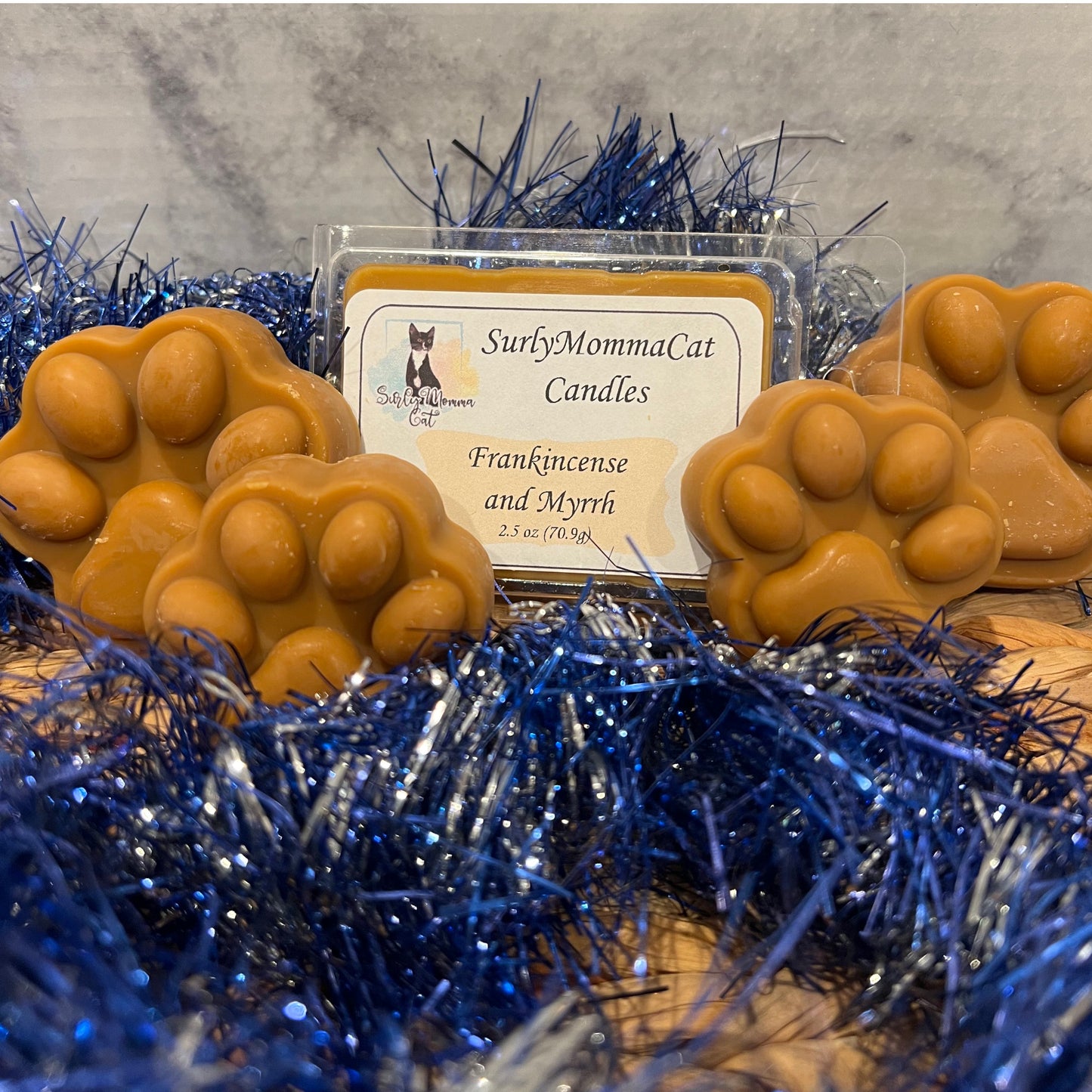 Shipping & Returns
Shipping

All orders are processed and shipped within 1-3 business days, Monday through Friday, excluding holidays.

We use USPS for all of our shipping needs and offer standard shipping options. The estimated delivery time for standard shipping is 3-7 business days. If you need your order sooner, please select expedited shipping during checkout. Please note that additional shipping charges will apply.

Hassle-Free Exchanges

At Surly Momma Cat Candles, we want you to be completely satisfied with your purchase. If for any reason you are not satisfied with your candles or wax melts, please contact us within 14 days of receiving your order to request a return or exchange.
Let customers speak for us